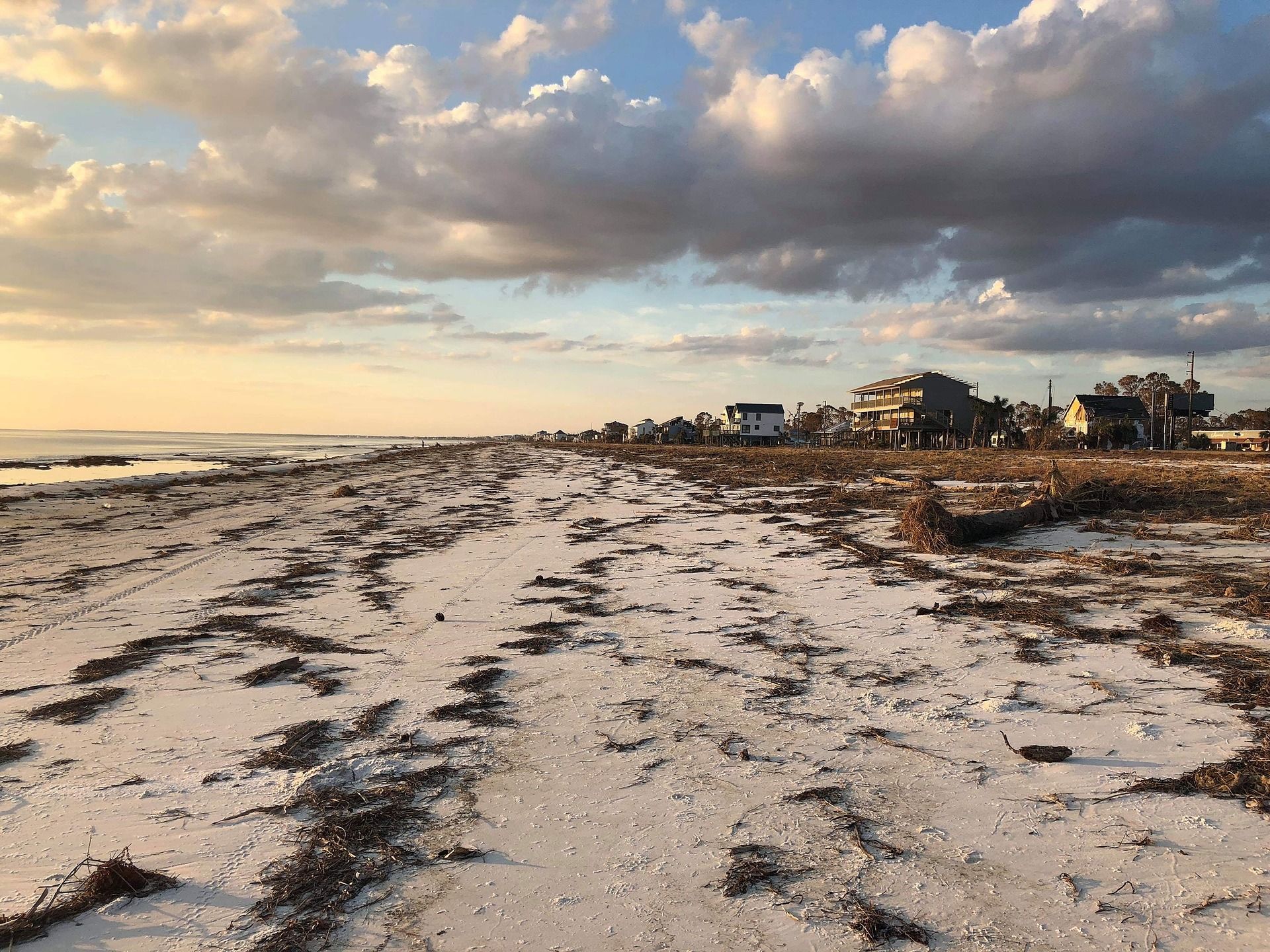 After a hurricane, you may face flooding, wind damage, mold damage, and other challenges. This page contains useful information regarding insurance, clean up, links, contacts, and other tips that we would like to share with our community.
PORT ST. JOE AREA CITIZENS INFORMATION LINE
Tel. 850-227-2349 – 8:00 a.m. – 6:00 p.m. EST
WEEKEND DISTRIBUTION CENTERS
Wewahitchka Gym – 852 S. Hwy. 71, Wewahitchka -Saturday, 8 a.m. – noon. Closed Sunday

Centennial Building – 2201 Centennial Dr., Port St. Joe – Saturday, 2-5 p.m. Closed Sunday

Washington Rec Center – 401 Peters Rd. Port St. Joe – Saturday 11 a.m. – 5 p.m. Sunday: 2-5 p.m.
INSURANCE TIPS AND CLAIM CONTACT INFORMATION
Contact your insurance company and speak with them directly. OBTAIN A CLAIM IDENTIFICATION NUMBER AND THE ADJUSTER WHO IS GOING TO HANDLE YOUR CLAIM (GET HIS TELEPHONE NUMBER AS WELL).It would be helpful to have your policy number as well. However, they should be able to locate you by name and address. Their claim number is listed on the Declarations Page also. TAKE PICTURES OF THE DAMAGE.

Protect your structure from further damage. Tarp your roof if need be or any other action to protect your property. Here are a few local restoration companies:They can come secure your structure and give you an estimate. When your adjuster contacts you then you are prepared. I would recommend using a local company. IF YOU REMOVE ANYTHING THEN KEEP IT ON PREMISES. YOUR ADJUSTER WILL WANT TO SEE IT.DKI: 850-255-5354DRT: 850-763-4378Southern Cat: 850-215-2280Servpro: 850-785-1077

Please do not sign a contract called Assignment of Benefits. That means you do not have control of your claim any longer.

Be patient. When an almost category 5 hits directly it will take time to get things back to normal. Everyone in this industry wants to take care of you. We will be working around the clock to assist you.

Keep all receipts that pertain to the storm. That will count towards your deductible.
Claim Contact Information:
- American Integrity -- (866)277-9871- American Strategic Insurance -- (866)274-8765- American Strategic Insurance Flood -- (866)511-0793- Avatar -- (877)233-3237- Bankers -- (800)765-9700- Bass -- (954)473-3198- Cabrillo -- (866)482-5246- Citizens -- (866)411-2742- Cypress -- (877)560-5224- Elements -- (EPIC) (866)709-8749- Federated -- (800)293-2532- FEMA Flood -- (800)767-4341- FL Family Insurance -- (888)486-4663- FL Peninsula -- (877)229-2244- Florida Specialty(formerly Mt Beacon) -- (866)554-5896- Frontline Torrent Flood -- (877)254-6819- Frontline -- (866)6730623- Heritage Property & Casualty -- (855)415-7120- Homeowners Choice -- (866)324-3138 (888)2105235- Olympus -- (866)281-2242- Orchid -- (866)370-6505- Progressive -- (800)-925-2886- Seacoast Brokers Insurance -- (843)341-1600- Security First Insurance -- (877)581-4862- Southern Fidelity Insurance -- (866)722-4995- Southern Oak Insurance -- (877)900-2280- Sterling Surplus (Flood) -- (855)227-2202- TAPCO -- (800)334-5579- United Property & Casualty -- (888)256-3378- Universal Property & Casualty -- (800)470-0599- Velocity Risk Underwriters -- (844)878-2567- Weston Insurance -- (877)505-3040- Wright Flood -- (800)725-9472
Individuals or businesses that suffered damages from Hurricane Michael can check their eligibility for different types of disaster assistance online at https://www.fema.gov/ , by calling 800-621-3362, or by visiting a disaster recovery center searchable here.
FEMA representatives will be on site to help area residents apply for FEMA assistance, check a FEMA application status, apply for Small Business Administration (SBA) loans, and more.
Operation Blue Roof Program offered by FEMA
Operation Blue Roof is a program offered by FEMA through the U.S. Army Corps of Engineers to eligible homeowners and landlords. It provides a temporary covering of blue plastic sheeting to help reduce further damage to property until permanent repairs can be made.
The recent hurricane has left many homeowners with damaged roofs. Repairs to these roofs can take time. In order to mitigate additional damage that could result from rain, homeowners can have plastic sheeting installed over the damaged area by U.S. Army Corps of Engineers contractors, in a program provided by the Federal Emergency Management Agency (FEMA).
The toll-free BLUE ROOF hotline number is 1-888-ROOF-BLU or 1-888-766-3258. For this information in Spanish, call 1-800-403-0573.
Here are some facts about Operation BLUE ROOF:
To qualify for BLUE ROOF services, damage to the roof must be less than 50 percent and the area to be covered must be structurally sound for a crew to work on.In order to have plastic sheeting placed on their roofs, homeowners must complete a right of entry form to allow government and contractor employees on their property. Right of Entry (ROE) centers for affected counties are manned by Corps of Engineers employees. For the center location in your county call toll free 1-888-766-3258.The Corps is covering roofs in the hardest hit counties first. Be patient. The Corps will respond to every person who has completed a ROE as rapidly as possible.Homeowners who had plastic sheeting damaged or blown off during Hurricane Jeanne must complete a new ROE form. The damaged or missing plastic sheeting will be reinstalled as rapidly as possible.In some instances, there may be a slowdown in installing plastic sheeting because of a national shortage.Homeowners can also cover their roof with free tarps provided by FEMA and issued through their local governments. Residents need to monitor the media for information on where to pick up the tarps.The plastic covering and the tarps are temporary fixes designed to provide protection from the elements until the homeowner can make permanent repairs with a qualified professional.The BLUE ROOF program is provided by FEMA through the U.S. Army Corps of Engineers in all counties that have been declared by FEMA for the Individual Assistance program.
*Please note this list is for convenience; please verify any company that you hire.
An insurance approved certified remediation company. They will come in and cut the drywall out, treat it with biocide and make your house safe again. Please contact Glen Wills at 941-704-4525 for more information.
This is a FREE service to connect VOLUNTEERS with victims looking for assistance with tree removal.
Here are the numbers for the Cajun Navy, a team of volunteers from around the southeast with the trucks and supplies to assist in rescue and supply operations. You can contact them if you need assistance with clearing roads, or receiving supplies:
888-372-2586786-864-0224229-586-5530253-343-7690
If you are in a situation where you cannot afford to hire a clean up crew, you can call the Crisis CleanUp Line at 1-800-451-1954.All services are free. These reputable and vetted agencies can assist you with fallen trees, removal of drywall/insulation/flooring/furniture/debris, rooftop tarping.
Ameri-Corp And Samaritians Purse
Ameri-Corp and Samaritians Purse will come and clean up yard debris 100 feet around your yard for free. You need to call and register so they can schedule your clean up.
If you have patience, you don't have to pay these private people a big fee. They won't rake and they won't lay down sod. This is not a house demo cleanup.
*The information contained herein is obtained from outside parties and we make no claim as to its accuracy.
REBUILDING, RENOVATING, REMODELING, OR ADDING AN ADDITION TO YOUR HOME AFTER A STORM
City of Port St. Joe Building Department
NOTICE TO PROPERTY OWNERS REGARDING SUBSTANTIAL IMPROVEMENT OR DAMAGE
If you are rebuilding your home after a storm, or renovating, remodeling, or adding an addition to your home, here is the information you need to know concerning THE 50% RULE.
If your home or business is below the 100-year flood elevation, which is determined by the information on your "Certificate of Elevation" or "Elevation Certificate", the City of Port St. Joe has flood damage prevention regulations that may affect how you repair, remodel, renovate or add on to your building. If your home or business sustained structural and/or interior and exterior damage, or if you plan improvements, these regulations may affect how you rebuild. These laws are required by the National Flood Insurance Program to protect your lives and investment from future flood damage. Our community must adopt and enforce these laws in order for federally backed flood insurance to continue to be made available to our residents and property owners.
Please read the following information:
Substantial Damage means damage of any origin sustained by a structure whereby the cost of restoring the structure to its "before-damage condition" would equal or exceed 50% of the market value of the structure before the damage occurred
Note: The cost of the repairs must include all costs necessary to fully repair the structure to its before-damage conditions
Substantial Improvement means any reconstruction, rehabilitation, addition, or other improvement of a structure before the "start of construction" of the improvement
For additional information and/or questions please refer to the City of Port St. Joe Building Department.
City of Port St. Joe Building Department1002 10th StreetPort St. Joe, FL 32456Phone: 850-229-1093Fax: 850-229-8242
Verizon Wireless customers residing in Bay and Gulf counties Florida will automatically be credited with 3 months of mobile phone service for each line they have. The free service is being offered to help those impacted by Hurricane Michael. Both Verizon Wireless consumer and business accounts will receive the credits.
The storm did some damage to Verizon's network. The nation's largest wireless carrier says that it is won't rest until its network is fully repaired. Progress is being made with each passing hour.
While repairs are being made, Verizon has deployed a network of portable cells to help support the efforts of first responders and other mission critical organizations. The portable cells have been deployed in the following locations:
Bay County Emergency Operations Center and 911 Center

Bay County Sheriff's Office

Blakely Emergency Operations Center

City of Parker Police Department

Gulf Coast Regional Medical Center

Gulf County Emergency Operations Center

Lynn Haven Emergency Operations Center

Panama City Police Department

Springfield Police Department

TECO Peoples Gas, Panama City

Washington Emergency Operations Center in Chipley
There are several banks offering the FHA 203(H) loan to customers whose homes were damaged or destroyed by Hurricane Michael. This is an excellent product for clients looking to purchase new homes because their previous home was either damaged or destroyed. Some key benefits of this product are listed below and in the attached flyer.
Up to 100% financing is available.

Available for clients who rented or owned prior to the disaster.
We have a list of contractors that can provide you with a quote on your property repairs, just contact us at 850-227-2500 or email us at [email protected].
Get your home's value - our custom reports include accurate and up to date information.